Signify has committed to its sustainable goals including reducing carbon emission and achieving circular economy. Last week, the Dutch Company further announced another target to eliminate plastic usage in packaging.
Signify announced that it will now start phasing out all plastics from packaging for consumer-related products with the aim to be plastic-free in 2021. By phasing out plastic used for consumer product packaging, Signify will avoid the use of over 2,500 tonnes of plastics per year. This is equal to 125 million PET bottles which, placed in a row, would stretch more than 8,000 kilometers (5,000 miles), roughly the distance from Troms? in the north of Norway, to Gibraltar at the southern tip of the Iberian peninsula, and back.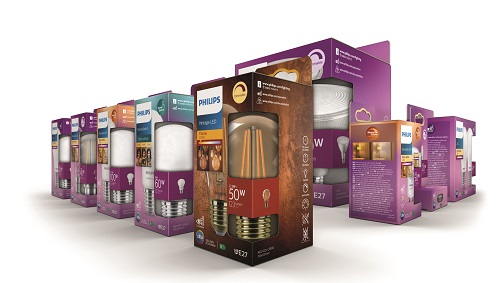 (Image: Signify)
Currently, the company's packaging policy already requires all packaging to contain more than 80% recycled paper and virgin materials must be from certified renewable sources. The LED bulbs sold in Europe by Signify will begin to apply the plastic-free polity starting 3Q20 and the rest of the world following in 2021.
Eric Rodnolat, CEO of Signify, addressed the negative impacts resulted by plastic waste and said that he is looking forward to the moment when Signify can announce that the company no longer use plastics in its packaging.
Phasing out plastics is a further way Signify is driving sustainability in its business and another milestone alongside the Brighter Lives, Better World sustainability program. Signify noted that it is on track to achieve carbon neutrality globally this year and already achieved carbon neutrality in 15 of 19 markets.